The Financestu team writes about stuff we think you'll like. We have affiliate partnerships so we may get a share of the revenue from your purchase. But don't worry, it won't cost you anything extra, and we promise not to spend it all on silly hats (maybe just some of it). Thanks for supporting our blog and questionable fashion choices.
Not sure if CFI's Financial Planning and Wealth Management (FPWM) program is for you? You've come to the right place.
After scrolling through dozens of articles, forum discussions, and comment sections where professional wealth managers, bankers, and students exchanged opinions on the FPWM program, this post assembles everything I found.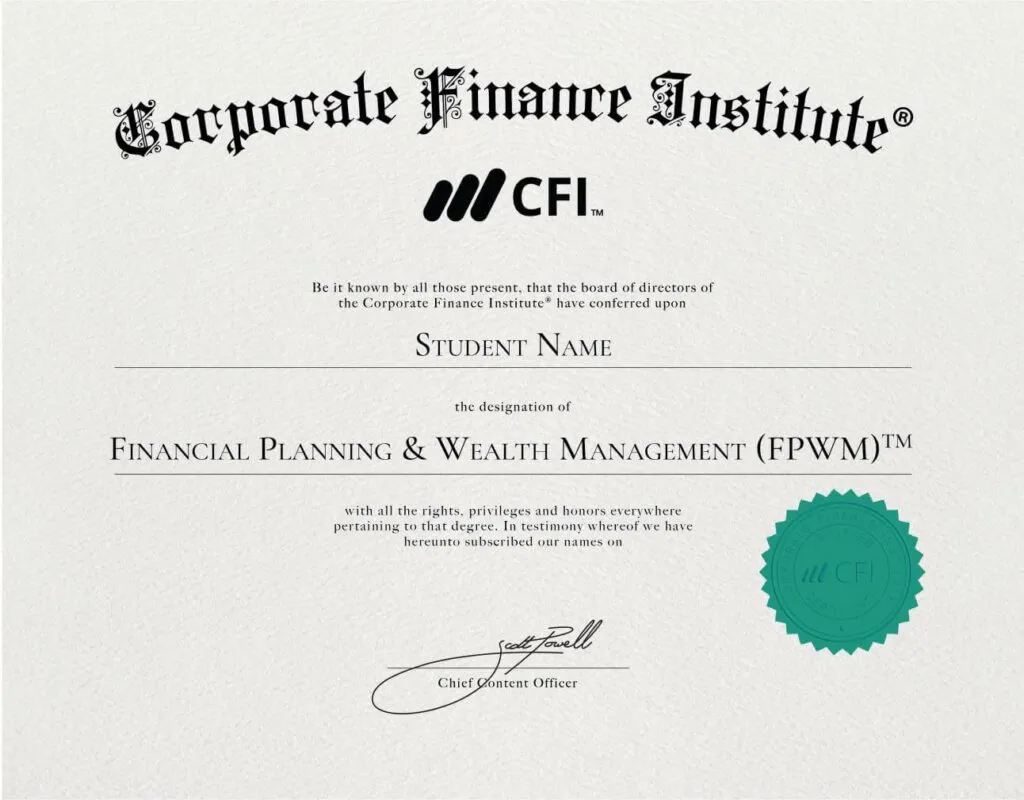 That being said, stick to the end to know what the biggest limitations of the program really are.
What Is the CFI FPWM Certification
CFI's Financial Planning and Wealth Management (FPWM) program will show you how top financial planners and wealth advisors make informed decisions.
Through a sequence of courses, you will learn the skills, knowledge, and tools to become a successful finance professional.
The FPWM program is composed of 25 courses (7 prep courses, 11 core courses, and 7 electives), plus 80 interactive exercises along the way so that you learn by doing practical, real-world lessons.
The program was created by Corporate Finance Institute (CFI), a leading global provider of accredited online courses in Finance and Banking.
Over 1,000,000+ people at top universities, investment banks, and financial firms worldwide have taken CFI's programs since 2016.
The certification is divided into 3 steps, after which you become FPWM-certified:
#1) Preparational Courses
The introductory section of the program is composed of 7 optional courses meant to teach you the basics of financial planning and wealth management:
Careers in Financial Planning and Wealth Management (2.5 hours): An overview of the career paths you can take, including the secrets that separate top advisors from average ones, compensation structure, what a typical day as a financial planner consists of, and how to identify which career path best suits your personality. You can enroll in this course completely for free.
Banking Products and Services (4 hours): Here you'll learn the various products and services you may encounter as a wealth manager, so you can better choose which one to specialize in. And also how banks make money from each product (real-world fee structures they use). You can enroll in this course for free as well.
Math for Finance Professionals (5 hours): This course teaches you essential math skills you need for a career in finance, such as calculating simple vs. compound interest, effective and nominal rates, statistics for risk management, how bonds are priced, and how to determine the time value of money.
Assessing Drivers of Business Growth (2 hours): How to analyze the external economy, the industry of a company, and its business operations to determine if it is headed in the right direction or not.
Excel Fundamentals – Formulas for Finance (3.5 hours): Excel shortcuts, functions, and formulas that'll make it easy for you to stand out in an interview or move up the ladder at work. You can enroll for free.
Accounting Fundamentals (5 hours): Every finance professional must understand the accounting process. In this course, you'll learn how to read financial statements, how to record transactions, and how transactions move through the three statements. Enroll for free.
Reading Financial Statements (1.5 hours): As an investment advisor you need to know how to read financial statements so that you can assess where a business is at, how it is financed, where it is going, and what is its value. This course is also available for free.
As you can see you have free access to most of the prep courses in the FPWM program. Simply sign up for a free account on the CFI website and start exploring.
Although the courses in this first step are optional, they are highly recommended—especially for beginners transitioning from other areas of study, or business grads needing a refresher of the fundamentals.
#2) Core Courses
The main step of the specialization.
11 courses that will teach you everything you need to know in order to do efficient financial advisory and planning like the top wealth management professionals.
It should take you around 30 hours to complete and includes:
Financial Planning Principles (2.5 hours): You will learn the 7-step foundational financial planning process. This is how the best financial advisors plan according to the needs of the client, and execute that plan flawlessly.
Asset Classes and Financial Markets (2.5 hours): How can you provide financial advisory services without knowing financial markets like the back of your hand? This course will show how to interpret real market data and develop your opinion, along with why financial markets are so important for the global economy.
Portfolio Management for Retail Clients (2.5 hours): How should you invest the money of high-net-worth individuals and families? This will teach you 4 methods portfolio managers commonly use to grow retail client portfolios. You can also apply the concepts in this course to your personal portfolio.
Economics for Financial Advisors (2.5 hours): What drives the global economy? You can't manage client portfolios inside your own bubble. You need to always have the macro picture in mind. This course shows you how consumers make choices, business cycles, and how to profit from monetary policy changes.
Risk Management and Insurance Planning (3 hours): In this course, you'll learn the main insurance products and how to plan for tragedies so you protect the interests of the client, their family, and any businesses they may have. You can enroll in this course for free.
Effective Communication for Client-Facing Advisors (2 hours): How much value you can bring to the table is worthless if you're not able to communicate effectively and show your value. This course is essential if you're in direct contact with clients.
Effective Business Writing (2.5 hours): Like any other technical skill, writing can be learned, practiced, and perfected. Learn the strategies and small changes you can make to be more persuasive and entertaining in your writing.
Behavioral Finance (4 hours): In this course, you will learn common self-deception biases, cognitive biases, emotional biases, and information processing errors that hinder your financial decision-making. And how to avoid them.
Alternative Investments for Wealth Advisors (2 hours): From hedge funds to commodities to venture capital, alternative investments will help you obliterate benchmark returns—if you know how to exploit them correctly.
Networking, Prospecting, & Converting Leads (1.5 hours): If you want to have your own wealth management practice, this course is crucial. Learn how to, not only get clients from zero, but also build long-lasting relationships with them.
Professional Ethics (3 hours): It takes years to build trust with clients and one single unethical action to completely destroy it all. In this course you will learn an essential ethical decision-making framework for financial advisory.
Overall, the lecturers are good at breaking down everything to make it easy to understand.
The courses have lots of illustrations that make even the most complex topics more engaging. There are also graphics that speed up your learning in all of the materials, as well as videos and downloadable PDF files.
These courses will push you from knowing only theory to actually mastering financial planning and being able to work fast and efficiently.
#3) Elective Courses
In the third step of the FPWM certification, you choose a minimum of 4 electives (out of 7 available) to explore additional topics that interest you:
Fixed Income Fundamentals (3.5 hours): Par value, coupon, yield curves, and credit spreads. Learn the fundamentals of bonds, how to price them, and the different methods to quantify their riskiness.
Equity Markets Fundamentals (4 hours): In this course you'll learn how equity exchanges work under the hood, including how to follow big money (how institutional investors move around).
Derivatives Fundamentals (2.5 hours): Forwards, futures, options, swaps. Learn how to trade derivatives.
Spot Foreign Exchange (2.5 hours): In this course you'll learn the fundamentals of FX markets. From how to quote bid/offer rates to the most successful trading strategies (from a professional trader with decades of experience).
Commodities Fundamentals (3 hours): Commodities are the backbone of everything we buy and use nowadays. Understand what drives their price, and how to profit from fluctuations in said price.
Understanding Options (2 hours): Moneyness, intrinsic value, pay-off diagrams, pricing models. Learn how you can use options to boost the returns of your clients' portfolios, without getting burned by the leverage options provide.
Private Banking (4 hours): This course shows you how the best private bankers align their investment strategies with their client's risk tolerance and financial goals.
While financial markets are a broad topic you need to be knowledgeable about all around if you want to work in the financial services industry, eventually you will have to pick an asset class to specialize in. And these courses help you understand what's available.
You can take as many electives as you would like—all the content is available to you in your CFI subscription, at no additional cost.
Also, even though these courses are optional, they are not easy. You will need the knowledge from the previous steps to guide you and complete them successfully.
---
Each course in each of the three categories above (optional, core, and elective) has an assessment at the end to test your knowledge.
The assessments consist of around 20 multiple-choice questions. And you must get at least 80% of the answers right to pass.
If you pass all 15 required courses (11 core and 4 electives), congratulations! You are FPWM certified.
You can claim your certificate in digital form, or order a physical copy.
No final exam? Nope.
Unlike the other CFI programs, the FPWM does not require a final exam as of now.
Who Is the FPWM Program For
The FPWM certification is ideal for you if:
You're already in the financial services industry (working as a financial planner, analyst, advisor, wealth manager, or private banker, etc.) and are angling for a promotion.
You want to start your own practice in financial planning or wealth management.
You didn't go to business school but are looking to transition to finance.
You are studying finance, management, or accounting and want to enhance your skills, be at the top of your class, and boost your resume.
You're a business grad but you're unsure of what path within the financial services industry you want to pursue.
Now, are there any requirements you need to meet before enrolling?
You don't need a business degree in order to take the FPWM courses.
You do need a good understanding of high school-level maths.
Completing this certification is not the easiest thing in the world. And of course, a degree in finance will help. A lot.
But so long as you put in the work, you'll be successful—even if you never stepped foot in a business school.
CFI guarantees the curriculum is hands-on and prepares you for portfolio management and financial planning roles.
How to Enroll
To enroll in the course, simply go to the Financial Planning & Wealth Management program page and click the Get Started button.
You cannot buy access to the FPWM program itself. Instead, you can only buy a CFI annual membership. And for this you have two choices: Self-Study or Full-Immersion.
The Self-Study plan costs $497/year and gives you unlimited access to:
120+ online finance courses and certification programs, including the FPWM program.
5,000+ lessons, models, and case studies.
Downloadable models, templates, guides, and presentations.
There's no option to subscribe monthly. The annual subscription gives you the flexibility to explore any CFI course you wish to take for an entire year.
You can take advantage of the promotional code Welcome10 for a 10% discount. How?
After you create your account, choose your subscription bundle, go to the checkout page, input the coupon code, and click Apply.
There's also the Full-Imersion plan for an extra 350 bucks ($847/year). What's this?
It gives you everything in Self-Study, plus access to the Macabacus productivity add-in ($300 value), which helps you get things done faster in Microsoft Office products.
You also get 1-on-1 support from professionals already working in the positions you want, and also resume and cover letter feedback every month.
The CFI membership is a recurring annual payment. So in case you don't find the programs valuable, do not forget to cancel your subscription.
Programs take an average of 4-6 months to complete. However, you have the freedom to complete them at your own pace.
You will always have access to the required courses, resources, and assessments to obtain the certifications as long as your membership is active.
Pros & Cons
Here are 5 reasons to pursue the Financial Planning and Wealth Management specialization certificate:
Free courses: CFI offers free access to all the preparational courses and some lessons within the remaining courses. Although you can't download files, you get an overview of what the specialization is about, and if it's worth your time and money. Like buying a house, you get to make your decision only after looking at the inside of it.
Self-paced: You take the courses 100% online and at your own pace, as you're able to pause, rewind, and review concepts as you need. You can learn whenever it fits your schedule and mood. Once you start a course, your progress is saved, and you can access it at any time.
Tailored for real-world application: Unlike school classes that focus on concepts that only apply to perfectly predictable theoretical worlds, this program teaches you skills you can immediately apply to real-world projects at work or business endeavors you're pursuing. Also, a lot of the concepts covered in the courses are not offered by universities.
Shareable certificate: You can share your FPWM certificate in your LinkedIn profile, CV, or other documents. As everyone has a degree nowadays, certificates are a great way to stand out in the job market because they showcase your proactiveness. And employers can easily verify the validity of your certificate.
All-access: Subscribing to CFI gives you access to all of their programs, including those with certifications. You can earn as many certifications as you want without having to pay a separate fee for each.
And here are 3 negative points about CFI and the FPWM certification:
Low recognition: All assessments are multiple-choice and you can retake them as many times as you need, which makes them pretty easy. The result? Anyone can repeat the tests over and over, take note of the right answers, try again, and pass. You should only take the course for your own learning's sake, not if you think adding it to your resume will be game-changing.
Filtered testimonials: CFI only shows you good reviews on the courses' pages. Still, if you go around forums or YouTube videos on the FPWM and scroll down to the comment section, you'll see most people praising the program. Additionally, the testimonials link to LinkedIn posts so you can verify the career path of the people writing them and see if you want something similar for yourself.
No interaction with tutors: The Self-Study plan does not give you the option to speak to tutors. For that, you need the Full-Immersion plan. You can send up to five questions per week to industry experts.
With these in mind, what's the verdict?
FPWM Certification Review: The Verdict
The financial services industry is booming.
Whether you're looking to switch careers, angling for a promotion, or starting your own wealth management practice, you can leverage the FPWM program to become a world-class financial advisor, capable of growing clients' portfolios with different levels of complexity.
CFI's Financial Planning & Wealth Management program is value-packed, and taught by experts in the field. It is well-paced and emphasizes hands-on practical skills through real-world examples.
The courses that make up the program cover the topics of financial planning, business development, investment management, and relationship management.
To put it simply:
If you're looking to learn how the highest-earning financial advisors conduct business, the FPWM is for you. Or even if you are an experienced advisor looking to take your practice to the next level.
If you're looking for a glamorous and prestigious acronym to put next to your name in hopes of impressing people, forget about it. The FPWM is not for you, as it has low brand value.
To join, you need to purchase a CFI membership.
Once you enroll, you get instant access to the entire CFI training library—including all programs, courses, templates, case studies, and models—for one single price per year.
And you are free to take more than the required courses if you want to, at no additional cost.
Join the +1,000,000 other people who have enrolled:
Financial Planning and Wealth Management (FPWM) Certification

The Financestu team dives deep into CFI's FMVA Certification, sharing actual experience from within the program in this in-depth 2023 honest review.
Product Brand: Corporate Finance Institute
Product Currency: USD
Product Price: 497
Product In-Stock: InStock
Have you enrolled? What did you think of the courses? Leave your comments below.
Have any further questions I didn't answer? Let me know and I'll get back to you in less than 24h.
Also, if you have enrolled and need any help understanding the course's content, feel free to contact me.