This post contains affiliate links.
Not sure if becoming a certified Financial Modeling & Valuation Analyst is for you? You've come to the right place.
I went through over 2 hours of videos reviewing and ranking different certificates for business professionals, read through 20+ articles, and scrolled through countless forum discussions and comment sections where professional analysts, business owners, and students exchanged opinions on the FMVA certification.
This post aggregates everything I found.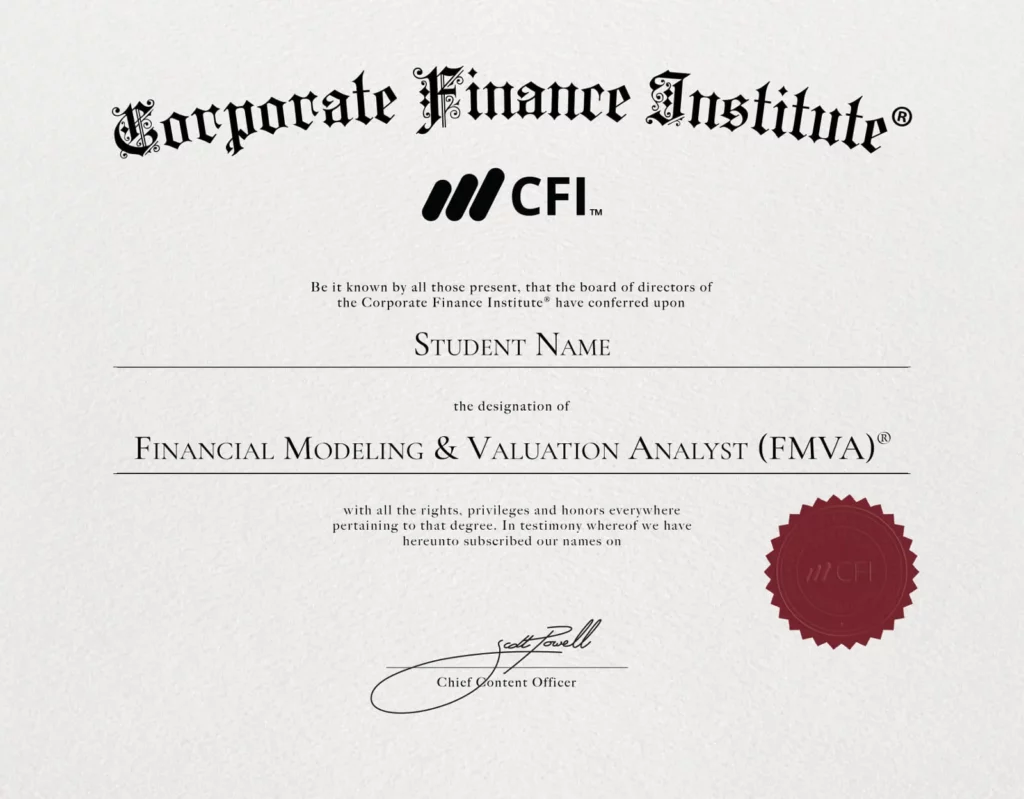 That being said, I recommend you stick to the end to understand what the biggest limitation of the certification really is.
What Is The FMVA Certification
The Financial Modeling and Valuation Analyst (FMVA) certification is an online training program that teaches you how to perform financial analysis.
It is composed of 41 courses (consisting of 2900+ lessons) that will help you master modeling skills, forecast more efficiently, and learn about accounting and finance.
The FMVA certification will arm you with the skills and tools you need to become a competent finance professional.
The program was created by Corporate Finance Institute (CFI), a leading global provider of online financial modeling and valuation courses. 1,000,000+ people at top universities, investment banks, and financial firms worldwide have taken CFI's programs since 2016.
The certification is divided into 4 essential steps, after which you become FMVA certified:
#1) Preparational Courses
The first step is a review of the fundamentals of accounting, financial statements, corporate finance, risk management, Excel, and math.
It is composed of 8 courses taking on average around 2 hours to complete each.
This step is optional, but highly recommended—especially for beginners transitioning from other areas of study, or business grads needing a refresher in financial analysis.
#2) Core Courses
The main step of the certification.
14 courses that will teach you everything you need to know in order to do efficient financial modeling and valuation like the top finance professionals.
It should take you around 80 hours to complete and includes:
A deep dive into DCF valuation modeling.
Mastering the relationship between the income statement, cash flow statement, and balance sheet, without having to become a certified accountant.
How to value a business without the DCF model.
Common mistakes to avoid when budgeting and forecasting.
How to incorporate the uncertainty of different scenarios when valuing a project.
How to build impactful presentations, as unfortunately, a lot of times it's not about what you know, but what you can show you know.
And much more…
For the full list click here and then on "How It Works" and then on "See All Core Courses" below "Step 2: Core Courses."
Overall, the lecturers are engaging and keep everything easy to understand.
These courses will push you from just knowing theory to mastering financial modeling and being able to work fast and efficiently.
#3) Elective Courses
In step 3 of the FMVA certification, you'll be invited to choose at least 3 electives (out of 19 available) to explore advanced modeling and financial analysis topics.
These topics include:
How investment banking and private equity firms adapt their modeling to real-world mergers and acquisitions (M&A) deals.
How to model for real estate (completely different than company valuation).
How to value an e-commerce business.
Mastering LBOs (levered buyouts, the most feared interview question).
Little-known Excel and Power BI techniques that'll minimize how long you take to build a model.
And much more…
You can take as many electives as you would like—all the content is available to you in your CFI subscription.
#4) Final Exam
After completing the required courses, you take a final exam covering financial modeling and valuation to earn your certificate.
You will need to get at least 70% of the answers right.
After successfully completing the exam you can say you are FMVA certified. Congratulations!
You'll have the option to order a physical copy of the certificate to your door.
Pros & Cons
Here are the advantages and disadvantages of enrolling in the FMVA program:
Benefits of FMVA Certification
Self-paced: You can pause, rewind, and review concepts as you need. Also, as we'll see below, there is no option to buy the certification. Instead, you buy an annual CFI membership. This means the faster you complete the lessons, the less you pay.
Recurring updates: The program is updated with new courses every month, so you stay up-to-date with the latest tools and skills in financial analysis.
Real-world connection: Unlike other finance courses that focus on concepts that only exist in a vacuum of theoretical worlds, this certification challenges you with real-world problems that will teach you job-relevant skills and tools. It's tangible project experience you can mention in a job interview, for example.
100% online: You can become a certified financial analyst from anywhere in the world.
Drawbacks of the FMVA Certification
Low recognition and status: All assessments are in multiple-choice format and you can retake them as many times as you need, making them pretty easy. The result? Even a person with very little knowledge of finance can take the final exam a lot of times, memorize the right answers through trial and error, and pass it with multiple retakes. While the quality of the material in the FMVA program is great, the online exam format will never render the same merit as a closed-book in-person exam like the CFA.
No access to all reviews: Unlike Coursera for example, or a website like Amazon, you can't see real reviews on the courses pages. CFI only shows you 5-star reviews. Still, if you go around forums or YouTube videos on the FMVA and scroll down to the comment section, you'll see most people praising the program. Take that into account when deciding whether to join or not.
No community: Most online learning platforms have a discussion forum where students can exchange ideas with other fellow students pursuing the same programs and with the lecturers. This gives you the opportunity to clarify any doubts you may have had while going through the courses. CFI does not offer this feature.
With these in mind…
Who Is The FMVA Certification For
FMVA certification is appropriate for you if:
You're already in the financial services industry (working as an accountant, financial analyst, credit analyst, or consultant, etc.) and are angling for a promotion.
You didn't go to business school but are looking to transition to finance.
You are studying finance, management, or accounting and want to enhance your skills, be at the top of your class, and boost your resume.
You're a business grad but you're unsure of what path within the financial services industry you want to pursue.
Now, are there any requirements you need to meet before enrolling?
You do not need a business degree (accounting, management, finance) in order to take the FMVA course.
You do need a good understanding of high school-level maths.
Completing this certification is not the easiest thing in the world. And of course, a degree in accounting or finance will help. A lot.
But so long as you put in the work, you'll be successful—even if you never stepped foot in a business school.
CFI promises real-world applications and a hands-on curriculum that will prepare you for investment banking, private equity, M&A, business valuation, and corporate finance careers. So if you have an interest in any of these areas, the FMVA certification will only benefit you.
Who Is It Not For
The FMVA certification is perfect for gaining actual financial analysis skills and training fast, but it does not hold anywhere near the same weight as the CFA. It doesn't signal the same status, unfortunately.
Some people even argue a CFA Level I passed exam (far from the full CFA designation) holds more weight than the FMVA certification.
The truth is everyone knows about the CFA. The failure rates are quite high (61% for May 2023's Level I exam), but guess what?
That's precisely what makes it so valuable. So prestigious. It is undeniable there is high rigor behind the CFA program and that only top candidates make it through. You really need to prove your worth.
So if you're looking to enroll for the sole purpose of adding FMVA to your name on LinkedIn, think twice. Because the FMVA may not be what you're looking for.
The FMVA has been gaining recognition over time, but as of now? Most people will not have a clue of what in the world you're talking about when you mention it.
Of course once you explain the curriculum to them, they'll likely agree it's a valuable program. It'll also show you're proactive. On top of that, the FMVA certification has been getting more and more recognized over the last few years.
Now, keep in mind:
A resume filled with certifications is not what's going to get you a job in high-paced careers such as management consulting or investment banking anyway.
It can certainly make you stand out, but these certifications (including the CFA) are not needed.
What has the most impact is a high GPA, a top university, relevant internships, and soft skills.
How to Enroll in the FMVA Program
You cannot purchase access to the FMVA certification by itself.
Instead, you can only buy a CFI membership plan.
The Self-study plan costs $497/year and gives you unlimited access to:
120+ online finance courses and certification programs, including the FMVA program.
5,000+ lessons, models, and case studies.
Downloadable models, templates, and guides.
Even though CFI presents the $497 as around $41 per month, there is no option to subscribe monthly. You can only purchase the annual subscription.
This gives you the flexibility to complete all the courses you wish to take for an entire year.
You can take advantage of the promotional code Welcome10 for a 10% discount. How?
After you create your account, choose your subscription bundle, go to the checkout page, input the coupon code, and click Apply.
You can also opt for the Full-Imersion version for an extra 350 bucks ($847/year). What's this?
It gives you everything in Self-Study, plus access to a variety of advanced financial tools (which would cost a lot more than $350 if you paid for each one individually). What are these tools?
Click here and then go to "Pricing" for the full list of tools included in the Full-immersion version of the FMVA certification.
You also get 1-on-1 support from professional analysts who will review models you've built once per week, and give you resume and cover letter feedback every month.
Unless you cancel automatic renewals, this is a recurring annual payment. So in case you don't find the program valuable, make sure you cancel your subscription.
CFI programs take an average of 4-6 months to complete. However, you have the freedom to complete them at your own pace.
You will always have access to the required courses, resources, and assessments to obtain the certifications as long as your membership is active.
FMVA Certification: The Verdict
The FMVA certification is the best way to improve your understanding of financial modeling.
It's a cleaner, modernized, deeper, and better-structured version of other modeling programs.
The program will boost your analytical skills, make you good in Excel, good at modeling, good at data analysis, and in business and investment valuation.
It takes around 6 months to finish, but working through just a couple of courses will help you tremendously. Plus, CFI offers thousands of templates (literally) and several case studies.
To put it simply:
If you're looking to improve your modeling skills, the FMVA is for you.
If you're looking for a glamorous and prestigious acronym to put next to your name in hopes of impressing people, forget about it. The FMVA is not for you, as it has low brand value.
To join, you need to purchase a CFI membership.
This gives you access to the entire CFI training library—including all programs, courses, templates, case studies, and models—for one single price per year.
Join the +1,000,000 other people who have enrolled:
Financial Modeling & Valuation Analyst Certification

The Financestu team dives deep into CFI's FMVA Certification curating opinions and sharing actual experience from within the program in this in-depth 2023 honest review.
Product Brand: Corporate Finance Institute
Product Currency: USD
Product Price: 497
Product In-Stock: InStock
Frequently Asked Questions (FAQs)
Here are some common questions and answers about the FMVA certification:
Is the FMVA recognized in the USA?
Corporate Finance Institute is an approved provider of continuing professional education (CPE) for CPAs in the United States and a member of the National Association of State Boards of Accountancy (NASBA). This means CFI courses are in line with USA accountancy standards.
Will the FMVA help me get a job?
It can certainly help, especially if you want to work in investment banking, corporate finance, equity research, or related careers that rely on financial modeling and valuation. Certifications are a great way to stand out, since everyone has a degree nowadays. Additionally, companies love proactive people who don't need to be handheld. However, certifications like the FMVA are not a requirement to work in the financial industry.
Is the FMVA exam difficult?
Not really. The course has great content, great structure, and great instructors. And you get access to thousands of modeling templates. Not to mention you can repeat course exams as many times as you need until you get them right.
How long does it take to complete the FMVA certification?
It takes an average of 4-6 months to complete the entire program. But you have the freedom to complete the courses at your own pace.
What is the salary of a certified FMVA?
According to CFI, the average salary of people who have enrolled in or completed the FVMA certification is $121,000/year.
---
Have you enrolled? If so, what did you think of the courses? Leave your comments below.
Have any further questions I didn't answer? Let me know and I'll get back to you in less than 24h.